Brother Richard Hendrick – Mindful Meditation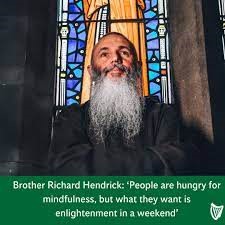 Brother Richard returned to Croi Nua on Saturday, November 11th, for another insightful and thought-provoking presentation focused on Christian meditation and mindfulness, which was interspersed with some guided meditation practices and lots of entertaining stories.
In this uncertain world, we are all seeking a sense of inner peace and security, which is so fleeting if we look for it outside of ourselves.  Brother Richard guided us along a pathway showing us firstly why the practice of Christian meditation is so fulfilling and then directing us in the how of meditation.  This slowing down to become aware of our own inner wisdom and calling can be as simple as walking mindfully in nature or dedicating 10 minutes daily to a sitting meditative practice.
As we become aware of the benefits associated with mindful meditation, our practice will flow into our daily living and behaviours.  We will become more self-aware and more compassionate and caring towards our fellow humans.
Our hope is that everybody in attendance gained clarity and wisdom from the presentation and a desire to hear more from this very wise speaker.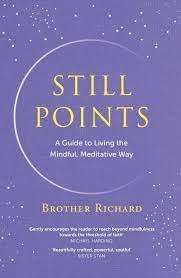 ---
Marion O'Brien & Michael Hegarty: Permission to be Yourself – Embracing Your Essence
Marion O'Brien presented a workshop entitled "Moving Beyond Your Comfort Zone" in May, 2023. Following positive feedback and a desire for more interactive workshops, Marion and Michael
Hegarty returned to Croi Nua on September 30th and presented this insightful and enjoyable workshop "Permission to be yourself – embracing your essence".
Their workshop was very well attended and again included a balanced blend of individual and group work, facilitated through the use of guided activities, play, memory work and visualisation. The
morning focused on the importance of each person connecting to and honouring his or her own unique and individual inner essence. Following the break, the focus was on how attendees could
create their own Essence Statement and discover ways of bringing that essence more alive each day. The facilitators created an atmosphere of rapport, trust and safety so participants became
comfortable sharing personal wisdom gained through their own life experiences. Friendships were created due to the deep sharing and respect shown to each individual.
One of the reasons the events facilitated by Marion have received such positive feedback is due to the atmosphere created that encourages the level of honest and intimate sharing that occurs within the group activities. Our human nature craves connection and this sense of shared experience, which we often struggle to find. Some of the positive comments received after the event included the following: "Excellent session, I have gotten so much out of today and I'm sure as the weeks go on, I will uncover more"; "A very enjoyable, informative, insightful presentation, well done"
We expect Marion to facilitate another event in 2024.
---
Dympna Mallon – Love is the Answer: Embodied Spirituality of Dorothy Day

Dympna Mallon of the Margaret Aylward Retreat Centre,  introduced us to the story of Dorothy Day (1897-1980). Dympna offered her reflections on this inspiring woman who was an American journalist and Roman Catholic reformer, cofounder of the Catholic Worker newspaper, and an important lay leader in its associated activist movement in the USA.
The Catholic Church has opened the cause for Day's possible canonization, which was accepted by the Holy See for investigation. For that reason, the Church refers to her with the title of Servant of God.
Thanks to Dympna for this most engaging story and for highlighting the courage of this fearless human rights campaigner, Dorothy Day, as well as the challenges such a life sets before us.
---
Arts with a Twist 4
The fourth Arts with a Twist  was held on 22 September 2023. Like the previous 3 evenings it was a very inspiring, informative and entertaining blend of music, poetry, writing and art.
This year we started with  a lovely, young, traditional band from Inverin, Ceoltairi Conamara who played a lively rendition of reels and jigs.
The well known artist Sara Kyne from Moycullen, displayed her beautiful paintings of children, iconic places like Kylemore Abbey and Glenstal Abbey and her recent exhibition of people who have made contributions to the poor and disadvantaged of Ireland. She explained her process of absorbing the aesthetic qualities of her subjects quietly over time and then capturing them in her art work.
The Sligo and Galway  poet Michael O'Gorman read from his latest book of poetry , "Fifty Poems" . These poems evoked a former Ireland and characters now gone. It was both heart-breaking and heart-warming.
Cormac Corcoran with his beautiful baritone voice raised the spirits of all present with his wonderful rendition of classics such as Ave Maria , Old  Man River and some beautiful old Irish airs.
Roisin Tummon introduced and fielded questions for the evening with her usual flourish and warmth. The evening finished with refreshments where people mingled and chatted.
---